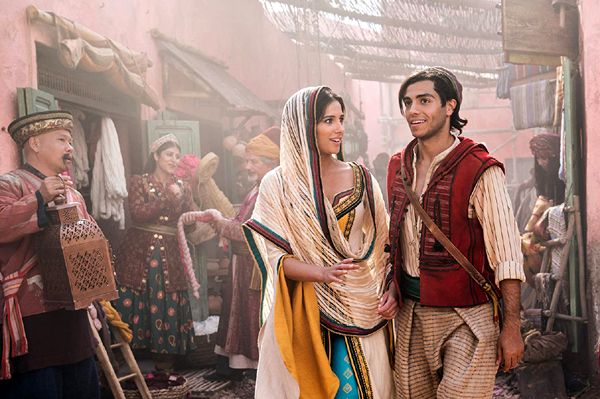 So earlier today,
I saw Disney's live-action remake of
Aladdin
, directed by Guy Ritchie
(of 2000's Snatch and 2009's Sherlock Holmes)
, at the local AMC Theatre. I don't recall watching the 1992 animated original in its entirety
(though I
did
listen to its music score on CD countless of um, times back in grade school)
, but
yea—
Naomi Scott was
totally
awesome as Jasmine
(with Mena Massoud, Will Smith and Marwan Kenzari doing great jobs portraying Aladdin, the Genie and Jafar, respectively; Nasim Pedrad gave an amusing performance as Dalia...a character invented for the live-action film)
. Such an amazing singer! Love her and Massoud's rendition of "A Whole New World," as well as "Speechless," a song specifically created for Jasmine in the new movie.
So when does Naomi Scott reprise her role as the Pink Ranger in
Power Rangers 2
? Will it be after Scott kicks ass in this November's latest take on
Charlie's Angels
(directed by Elizabeth Banks and starring Scott, Kristen Stewart, Patrick Stewart and Djimon Hounsou)
? Carry on.