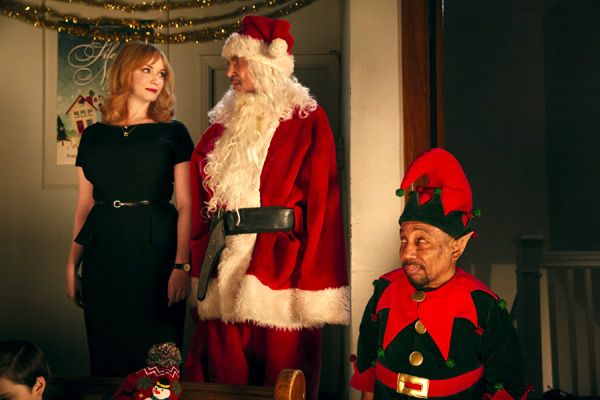 Last Sunday,
I watched the sequel to the 2003 sleeper hit
Bad Santa
, and needless to say,
Bad Santa 2
had its moments. Billy Bob Thornton was back to playing Willie Soke, the hilariously repulsive alcoholic who disguises himself as Saint Nicholas to commit heists, with Tony Cox reprising his role as Marcus Skidmore, the disgruntled and conniving elf assistant. Brett Kelly didn't miss a beat playing the happily oblivious and naive Thurman Merman once more, while Kathy Bates was game at sporting tattoos as Sunny Soke, and calling Willie
(her son)
a "sh*t-stick" in almost every other line in the film. Of course, while Bad Santa 2 had lots of funny moments...it was also a lot more raunchier and irreverent than the 2003 original—which isn't necessarily a good thing. Case in point: Reference to the Immaculate Conception as the
Ejaculate
Conception... I'm not a devout Catholic, but yea, other Christian folks may have rolled their eyes to that one. Assuming, of course, that die-hard religious individuals actually went out to see this movie. If its opening weekend
box office gross
is any indication, then
no—
they did not.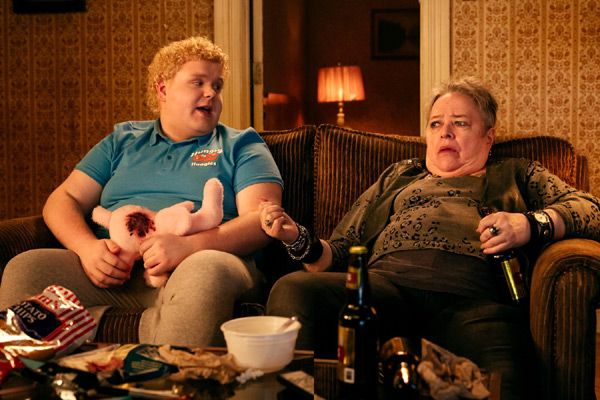 Bad Santa 2 basically fell victim to the pitfalls that prevented 2014's
Dumber and Dumber To
from being as successful as its 1994 predecessor...those pitfalls being that the sequels were released far too long after the first movies came out in theaters, and the sequels having to resort to very raunchy gags in an attempt to re-capture the humorous feel of the originals. A long gap between a hit film and a sequel is okay when it comes to animated flicks and action or sci-fi epics
[case in point: Pixar's Finding Dory (a follow-up to 2003's Finding Nemo) and the new Star Wars trilogy (seven uber-successful live-action movies in 39 years and counting), but sadly not Independence Day: Resurgence (the follow-up to the highest grossing film of 1996)]
, but this seldom applies to comedy flicks. Moviegoers' tastes in comedies evolve over time. The humor in
American Pie
was game-changing back in 1999...but that sort of comedy is now commonplace in today's TV shows such as the CBS sitcoms
2 Broke Girls
and
The Big Bang Theory
.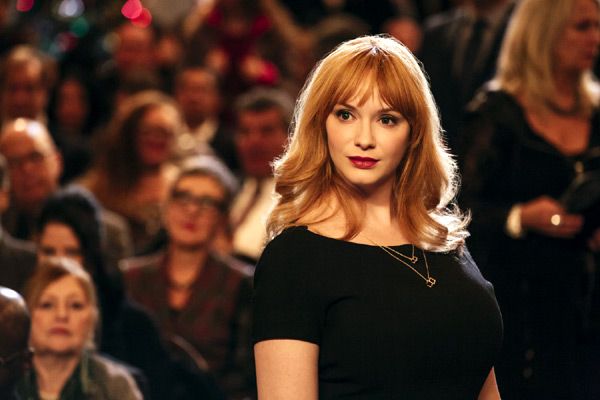 If there was one reason to re-watch Bad Santa 2, it would be due to the charm of Christina Hendricks. I've never seen the now-defunct AMC TV show
Mad Men
, but yea, Hendricks' character Diane Hastings is sweet and delightful in one scene and um, romantically voracious in another. "Romantically" isn't the actual word I wanna use here, what with her moments with Willie Sokes capturing just how bad Bad Santa could be
(I'm referring to Soke himself)
. I just wished that Bad Santa 2 overall was closer to being as memorable as the original film. Maybe it
would've
been if Bernie Mac and John Ritter were still here to reprise their roles as Gin and Bob Chipeska, respectively. Well, maybe
not
Gin—since Marcus killed him in the first movie, but Bob. Rest in peace, Mr. Mac and Mr. Ritter... Carry on.